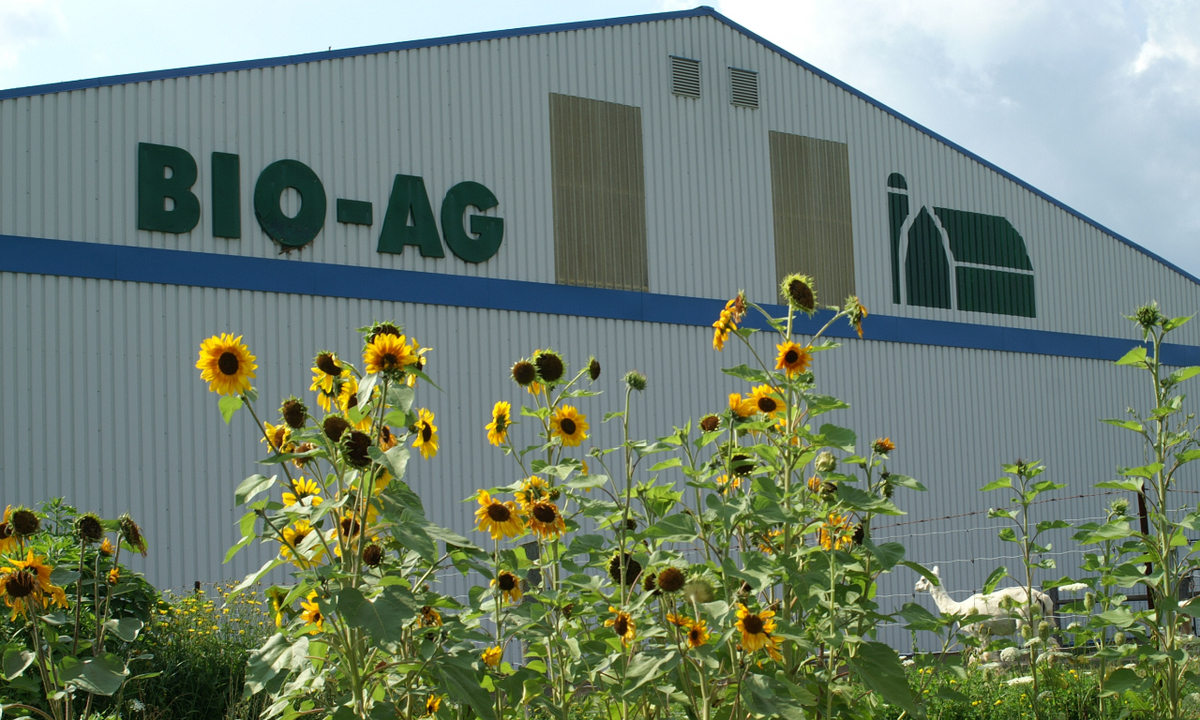 Summer Newsletter 2020!
Welcome to our latest summer newsletter! If this is your first time please enjoy various articles written by the staff here at Bio-Ag Consultants & Distributors.  Every quarter we bring you new and exciting content about industry trends, agricultural events and more.  We always welcome comments from our readers and even provide ad space when available.  If you want to receive an emailed copy or paper copy please call our office and our call takers will be happy to put you on our mailing list!  For all other inquiries please click here:
Inside this issue:
From the President
Guest Article: Ruth Knight on 2020 Crop Season
Greenwood Clinic Updates
Upcoming Monthly Specials
Dates to Remember
Customer Appreciation Day Announcement
Updated AR Policy
Recipe Corner: Refrigerator Bars
Happy Reading!
To Our Valued Customers
Bio-Ag is open and producing premixes and supplements. However, we are asking clients to avoid coming to the office. It is crucial that we minimize staff to exposure so we can keep providing those important products you need. If you must pick up at the office, please conduct the transaction by phone/email/fax. Staff will leave the product on our pickup dock. If you need assistance at loading, please request that when placing the order. 
Phone: 1800.363.5278 or 519.656.2460
Email: orders@bio-ag.com
Fax: 519.656.2534
Thanks for your patience and understanding,
Parry Bast
President
| | |
| --- | --- |
| | Generic Administrator at 5:20 PM |
Customer Spotlight - Auswill Farms
Mike Schumacher is a 3rd generation farmer, with 2015 marking the centennial for Auswill Farms.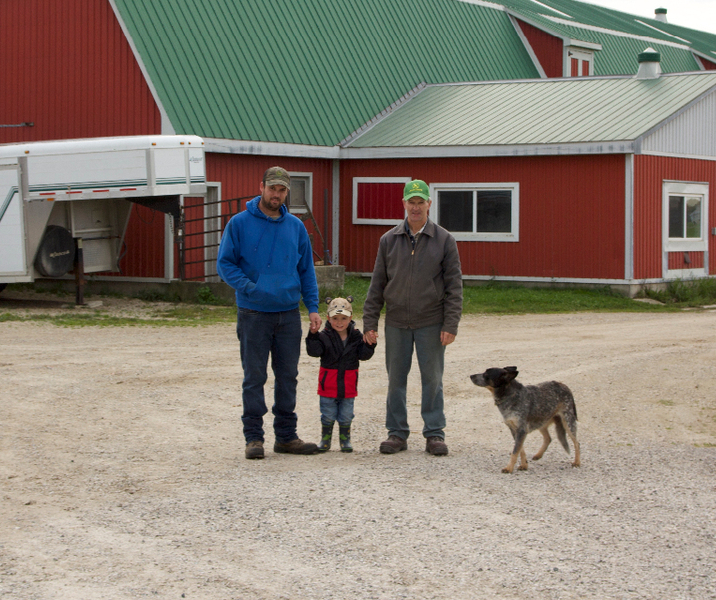 Originally purchased by his grandfather is 1915, Mike and his wife Brenda bought the farm in 1995.  Their son AJ helps out, and of course, grandson Liam likes to pitch in too.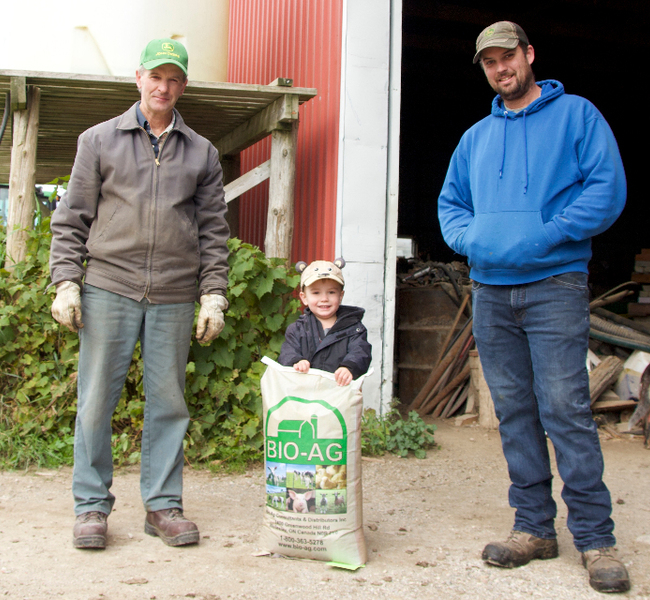 The Schumacher's choose to use all IP seeds and compliments that choice with  Bio-Ag products such as
Bio-Lac/Seaweed/Sugar, Ocean Harvest Dried Seaweed Meal, Perma-Guard (DE), Bio-Ag Kelp Fertilizer, Black Earth, and Bio-Ag Calf Starter.  They use the Bio-Lac/Seaweed/Sugar to help with fermentation and feel the cows are healthier and are better milkers due to the high quality of their corn silage.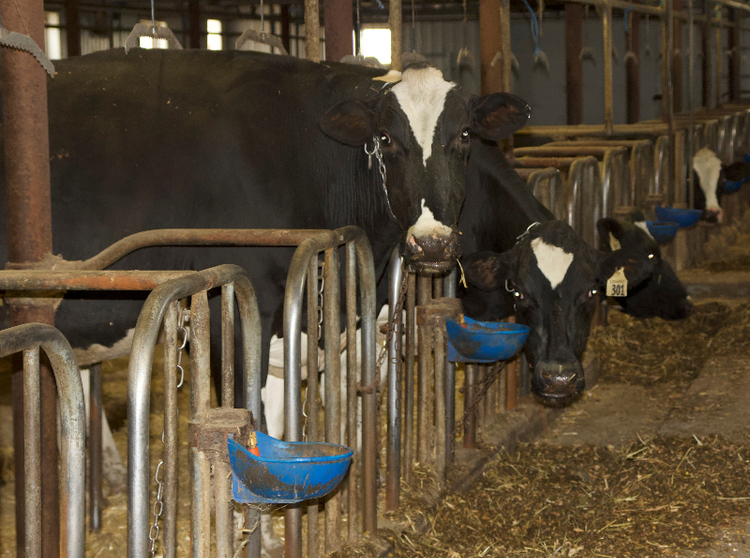 The Schumacher's are longtime customers of Bio-Ag and we wish them continued success and many more generations of farmers to come
PCAI Bio-Lac/Dried Seaweed Meal/Sugar
Get 5% Off for the Month of May

Bio-Ag Custom Forage Product
PCAI Bio-Lac/Dried Seaweed Meal/Sugar
Get 5% Off for the Month of May
To control ensiling temperatures, reduce nutrient loss and produce sweet smelling, palatable forages, Bio-Ag offers a premium custom forage blend that your animals will love.
Bio-Lac helps to support the gut microflora.
Dried Seaweed Meal promotes a healthy immune system.
Organic Sugar increases the amount of fermentable substrate which helps the lactic acid bacteria in Bio-Lac to promote the reduction of the pH quickly.  This leads to better lactic acid fermentation.
We recommend this product for baleage, haylage, and corn silage.
At Bio-Ag we can get your forages tested to ensure you are providing your cattle with the highest quality feed
Gathering Forage Samples
Use a bale corer
Gather from 8-10 different bales or areas of the field when loading loose into wagons
Place samples into a clean pail and mix together to make a composite sample
Fill a 500ml-1 L plastic bag of the composite mix and clearly label - ask your bio-ag dealer for our pre-labelled baggies
Freeze wet samples; keep dry hay at room temperature
Looking for more readings on why forages are an important part of your cattle's diet?
| | |
| --- | --- |
| | Nicole Kuyten at 10:15 AM |
| | |
| --- | --- |
| | Monday, February 11, 2019 |
Exciting Results for Seaweed in Poultry Feed!
Our partners at Ocean Harvest have recently completed a study with the University of Guelph showing positive results for OceanFeed Poultry blend seaweed.
You can read more about the study here
Pick up your bag of poultry specific dried seaweed meal at our office today OR place your order now!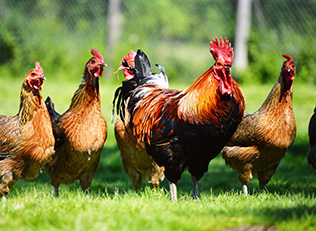 | | |
| --- | --- |
| | Tuesday, December 4, 2018 |

Winter Newsletter 2018!
Welcome to our latest winter newsletter! If this is your first time please enjoy various articles written by the staff here at Bio-Ag Consultants & Distributors.  Every quarter we bring you new and exciting content about industry trends, agricultural events and more.  We always welcome comments from our reader and even provide ad space when available.  If you want to receive an emailed copy or paper copy please call our office and our call takes will be happy to put you on our mailing list!  For all other inquiries please email nicole.kuyten@bio-ag.com
This feature includes a special insert with information about our January Educational Seminar Speakers!  For more information on how to get your tickets to our Educational Seminar please check inside the newsletter.
Happy Reading!
| | |
| --- | --- |
| | Nicole Kuyten at 11:01 AM |
| | |
| --- | --- |
| | Wednesday, November 21, 2018 |
Product Update - OceanFeed Poultry
Exciting news from our partners, Ocean Harvest Technologies!! Place your order here!

Ocean Harvest Technologies has just completed a dosing trial with broilers at the University of Guelph and preliminary results have been very positive. Here is a summary of the findings:
In starter phase, OFP at 0.5% OFP inclusion improved body weight (BW), body weight gain (BWG) and Feed conversion ratio (FCR). Response to OFP in the grower phase was similar to the starter phase with improvements in average daily feed intake (ADFI), BWG and FCR. In the finisher phase, only BWG was improved.
Overall (d 0-42), final BW (d 42) of birds fed the control plus 0.5, was heavier than those fed the Control diet by 166 grams.
Overall, birds fed 0.5% OFP had 2.2% better FCR relative to the control birds.
Birds fed 0.5% OFP had 9.2% higher breast yield relative to the control birds.
Mortality was reduced in birds fed the OFP diet compared to controls (1.4 vs 3.2%)
Due to improved performance and survival rate, OceanFeedTM Poultry provided a return of investment of 108%

| | |
| --- | --- |
| | Thursday, August 16, 2018 |
Bio-Ag and the Hastings Country Plowing Match

John Sweeting has been a Bio-Ag dealer since 2002 servicing the Peterborough area.  One of his favourite events to attend is the Hastings County Plowing Match in Tweed.  The show hosts over 200 exhibitors and Bio-Ag is proud to be one of them.  We recently had a chance to chat with John about his experience at the show and why he attends.
Hi John, thank you for sitting down with me today.  Why don't you tell me how you got started with Bio-Ag?
With Bio-Ag, alright well that's a bit of a story.  I think it goes back to 2002 or 2003; there was an advertistment in the farm paper at the local Ag office about a meeting of producers getting together about organic milk.  Murry Bast was the speaker who was coming down to give a presentation. I'd heard of Murray because of my field of farming organically and I always wanted to hear him speak.  I was also really interested in the topic of organic milk production. So I went to the meeting and asked a few questions.  And at that point in time there was some literature that came in the mail and a letter attached in the envelopes asking if I knew or would possibly be interested in taking on Bio-Ag Distribution.  They sent me a binder and I had an interview, so here we are
And the rest is history
Yes and the rest is history
You attend the Hastings County Plowing Match every year; why are you drawn to this show?
I have a bit of history that goes back into Hastings County.  I think it was the year of 1986 they hosted the International Plowing Match.  And from that experience the gentlemen who worked on that decided amongst themselves that it would be worthwhile to start their own mini plowing match.  So it just kind of grew to what it is today.  It's basically the "Outdoor Farm Show" version for East-Central Ontario.  It draws people from Ottawa, Renfrew, Kingston and up north into Barrie. It's 10+ acres of tented city so there is a lot for people to see like demonstrations of new machinery or whatever their focus is for that year.
How do you think you benefit most from attending?
I think it's the face to face contact.  The people who are interested and come into the tent you are more likely to do business with.  Through that I guess it's a more efficient time than making random cold calls.  Then you have current customers, who you don't see quite as often who might come by with a question.  And just that one on one contact and networking and building relationships is what makes it worth attending.
What is your favourite part of the two day event?
My favourite part? I guess it's a case of the whole Ag business coming together.  And for people of Ag background it's a day they look forward to and see all the different vendors who have displays.  It's hard to explain Nicole; Its like-minded people and a certain type of energy when you get a show together.  Like I say it's hard to explain.
Of all the people you talk to, what products do you find they are most interested to learn about?
There could be a variety it could be from any variety of livestock concerns or soil health.  It depends on the day of the show and if there are questions.  I think it's a case that we deal with a lot of people that are critical thinkers and a lot of them probably have questions when they come to the show.  Because we have consultants and distributors in our name they want to consult with us a little bit to see if we have the answers.  That's probably the best way to put it.
Now is there anything that people can expect?
There is a network of knowledge that we as a company have to draw on because of our dealer network and head office.  If there's a question I can't answer right away I can soon find out.  There will be a general variety of the products we carry displayed so people can see what we have.
Maybe they should just come to the show and visit you at your booth?
Exactly
Thank you for talking to me today John and we hope you have a good show this year!  If you would like to talk to John or get connected with him please head to the Hastings County Plowing Match and stop by his booth!  
For more information about the show please visit their facebook page 
HOSTED BY:
SCOTT AND ANGELA TRUDEAU AND FAMILY
302 STOCO RD. TWEED
http://www.hastingsfarmshow.ca/ 
Customer Appreciation Day 2018!
That's a Wrap!
     Every year we put on an event to celebrate our customers and to let them know how much we appreciate their business, because without their support Bio-Ag would not be where we are today.  This year's event was on July 11th, 2018. The preparation process demands a lot of us but once everything comes together everyone has a good time. 
| | |
| --- | --- |
| |        As many of our customers come to this event every year, we try to offer something new whether it's a unique educational topic or a special give away. Oh and we can't forget the amazing lunch that was prepared with Bast Family Organic Beef.  We owe Rolling Roaster special thanks for preparing the meat and serving the food; it was cooked perfectly and was delicious!  As for gift bags, several lucky families received a full sized Real Salt shaker in their bags. |
     Our information sessions were well attended.  This year we had two presentations - Summer Mastitis, and Young Ruminant Health - by Bio-Ag's Veterinarian, Kathrine Stoeckli, who was accompanied by our Nutritionist, Thevika Sebastian. If you are interested in more information from Kathrine on summer heat stress, check out her article in our summer newsletter!
| | |
| --- | --- |
| |      The third presentation was by Luke Serbina of Black Earth Humic going over the exciting benefits of applying Black Earth to your crops for increased yield.  Luke also was around throughout the day to talk to customers.  Thank you for joining us Luke! We hope to see you again soon.  To learn more about Black Earth applications you can contact or office or your local dealer. |
     Many of our vendors provided great door prizes these vendors include: Wayne Vanwyck from The Achievement Centre, Nature's Wave, Redmond Agriculture, Atlantean Plant Food, Black Earth Humates Ltd., Natural Feeds & Fertilizers, Ocean Harvest Technologies, Jones Feed Mills, Kindred Credit Union, Anchem Sales, Multi Mold, and Pestell Mineral & Ingredients.
     We hope everyone had a great time - we certainly did - and look forward to seeing you next year.
If you have any suggestions for next year please contact:  nicole.kuyten@bio-ag.com
Click the button below to go to the survey and enter for a chance to win! 
*This contest is available to Canadian residents only.  Contest closed July 31, 2018.  For more details call our office: 1.800.363.5278.
Hello and welcome to the new
Bio-Ag website!
Welcome to the new and improved Bio-Ag website and our very first blog post!  As technology advances, those who do not advance with it may fall off the view screen - literally.  This is why we have created a completely new experience for our customers.  The functionality of our new site now allows you to create your own online account, to place your orders online, and locate the closest dealer to you and much more.  Product information is readily available on the products page and is searchable by using the search bar. 
Our main objectives have been to make sure customers have the latest information available about our products, services and events - this site aims to provide all of that with ease.  The blog function for example will supply you with updates, educational pieces, and even event reminders about what shows we are going to.  We plan to post regularly; approximately every two weeks.  For those who subscribe to get updates about new posts will also receive exclusive content and offers.
Our website has an interactive map to help you locate your closest Bio-Ag representative.   Simply type in your postal code and the 5 closest dealers locations and contact info will be available to you.  Alternatively if you prefer to speak to someone in our office there is a contact form you can fill out and someone will respond within 2-3 business days.
Farming is becoming a very technologically advanced industry, and Bio-Ag is advancing alongside industry to provide the best customer experience possible.  One of the main benefits of our site is the ability to use our ordering system on your phone.  This feature provides you with the convenience of placing your order while you're out in the field or barn.
We hope this upgrade will provide a more convenient and simple browsing experience.  This is also new for us, during the month of July, those who visit our website and want to participate in our feedback survey will be entered into a draw to win one of three Bio-Ag giveaways.
Click the button below to go to the survey and enter for a chance to win! 
*This contest is available to Canadian residents only.  Contest closed July 31, 2018.  For more details call our office: 1.800.363.5278.
Contributors
Latest Posts
Archive
2020

2019

2018

December

November

August

July
Tags
Everything
Agriculture
CA Day
Black Earth
Calf Health
Dairy
Consulting
Dealer
Tradeshow
Farm Show
Poultry
Seaweed
Broilers
forages